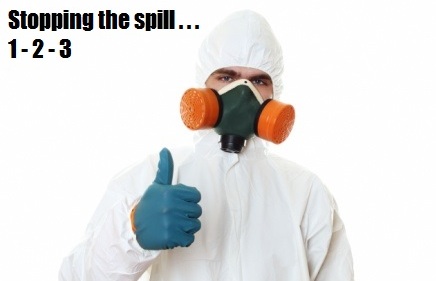 Stop the spill…1 – 2 – 3
When most people think of a the need for hazardous spill control they envision several gallons of liquid. But spills and leaks can come in all sizes and employees need to be prepared to clean them up. To make your spill cleanup quicker and safer, we have put together three simple tips.
First step…..Plug the leak or Stop the Spill.
The first consideration must be the type of absorbent material appropriate for the spilled substance. Are you trying to control a hazardous chemical, oil or everyday spill?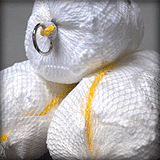 Your first line of defense is usually booms or socks. They can create a barricade to keep the spill from spreading. The sooner the area is contained the less you will have to clean up.
Socks are used for smaller spills. Socks are great for absorbing snow melt in doorways or nuzzling up against the base of a machine to catch leaks before they create a hazardous situation.
Booms are generally used for a larger situation. Booms are good for containing or absorbing liquids that have spilled into a po
nd, river or body of water.
The second step is to recover the spill.
Depending on how much liquid needs to be absorbed, pillows, pads and rolls are good for this as they can cover a large area. They are also good to use

on that continual drip from a leaky pipe that is waiting for maintenance.
If the situation calls for more than a pillow, pad or mat you'll need a loose absorbent material. The type of product you choose will depend on your spill.
Do you need to just absorb a liquid or do you want to immobilize a reactive chemical and lower the vapor levels?
If you want to just absorb a liquid there are materials like kitty litter, ground corncobs, wood chips and such.
If you need to immobilize a hazardous chemical and lower vapor levels you will need a solidifying absorbent. When choosing a solidifying absorbent, make sure you choose one that has a low volumetric increase and won't leach even under extreme pressure once liquids are absorbed.
The third and last step is to collect the waste and dispose of it.
It is best to check with your state and local regulations regarding disposal. Then dispose of the spill in accordance with all local, state and federal regulations.
What tips do you have for dealing with cleaning up leaks and spills ? Please share…
Helping our customers choose the right product is our specialty.  Give us a call and see why we our customers trust us to provide them with efficient and cost effective spill control products, 860 350-2200.
At Guardian Environmental Technologies we assist global industries, government agencies and prime contractors who handle hazardous chemicals, oil and gas with spill control and solidification solutions.