OSCAR Oil Spill Containment And Removal
Oil Spill Containment and Removal System
---
Here's How Different OSCAR is!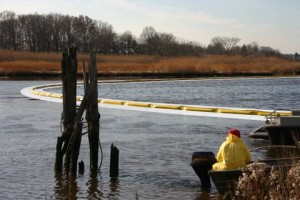 OSCAR is more than an oil spill containment boom. It is a custom designed oil spill containment and removal system using our SheenGuard oil sheen removal technology. When used in the aftermath of an oil spill, after the bulk of the oil has been skimmed and removed, OSCAR will help you with persistent oil sheen and rainbow removal.
Based on individual needs and requirements, OSCAR utilizes the combination of both our proprietary SheenGuard high capacity absorbent blankets the proven technology of floating containment booms. This provides maximum flexibility and effectiveness not found with convnetional containment boom.
Unlike conventional absorbent booms and socks, OSCAR provides more surface area, is easy to handle, secure and efficient.
Best of all OSCAR works! This oil spill containment and removal system is so adaptable it can be arranged and modified to accommodate almost any application.
OSCAR is cost effective:
It removes all traces of floating oil sheen without leaching, even during handling
It helps meet government regulations
Reduces man hours because it is so long lasting
It is superior in construction to insure stability in all conditions
Where Used:
Ideal for industrial holding ponds and water outlets.
Harbors, protected ports, inlets, ponds, lagoons, lakes.
Waterways, reservoirs, wetlands, slow
Unique Features of OSCAR:
Control and remove oil sheen and rainbow with one device.
Contain spilled oil to prevent migration with the latest containment boom technology.
Long lasting – keep in place for long periods of time for oil sheen control.
Easily change-out blankets and replace with boom in place.
Use it in conjunction with most oil skimmers.
Saves money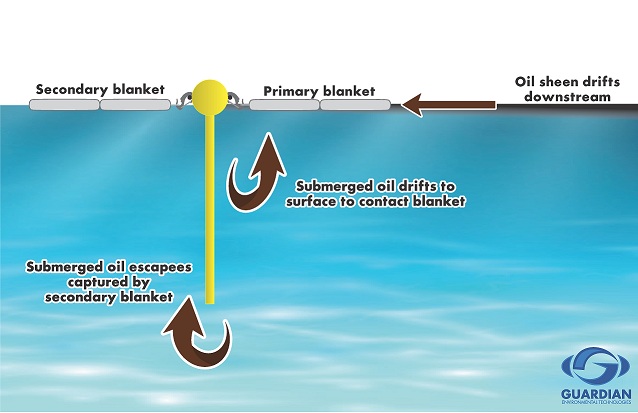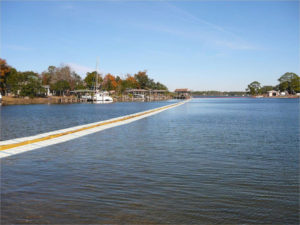 OSCAR Blankets:
Filled with PetroGuard-D absorbent to fit your application needs.
Blanket lengths to match boom section specifications.
Blankets are constructed of heavy weight durable materials.
Constructed with our proprietary flotation and stiffeners to prevent sinking or curling.
Carabiner clips allow easy attachment and change out of blanket from boom.
Heavy duty grommets on trailing edge of blanket to allow attaching an additional row of blankets.
Custom sizes available for that special application.