Hazmat Absorbent Booms, Pillows and Socks
Hazmat Yellow Socks and Pillows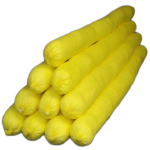 Highly absorbent pillows and socks filled with a universal yellow polypropylene fiber that is able to handle aggressive liquids such as acids and caustics. The socks and pillows are also used in the protective pack- aging to ship hazardous material according to 49CFR and DOT regulations.
The bright yellow cover stock is an easy visible cue for "caution", and should alert others and the user as to exercise caution when dealing with possibly hazardous materials.
Also when used in conjunction with a structured spill response plan, the yellow color can signify the type of liquid to be used for, to avoid commingling when disposing of used sorbents.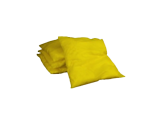 The socks are built with a tough outer skin of polyester knit, that allows quick absorption and solid performer as a damming system.
The pillows are incased in a spun bond, non-linting cover stock used to clean up spills large volume spills or placed in under machinery or filling stations.
The bright yellow alerts the user as to the purpose and proper disposal of the material. It also alerts the user to avoid comingling.
Absorbs and holds all liquids.
Can be incinerated.
Polypropylene fill is highly absorbent and flexible.
Easy to deploy and retrieve high capacity pillows during cleanup.
Small, flexible, compact size allows use in small cramped spaces without sacrificing performance.
Absorbs the widest range of acids, bases and unknown liquids, even at high concentra.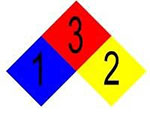 HazMat Yellow Polypropylene Knit Socks

Product Description
Packaging
Units/Skid
3″ X 48″ Universal Polypropylene Fill, Haz-Mat Yellow Knit Sock.
40/Box
18
3″ X 96″ Universal Polypropylene Fill, Haz-Mat Yellow Knit Sock.
20/Box
18
3″ X 120″ Universal Polypropylene Fill, Haz-Mat Yellow Knit Sock.
15/Box
18
3″ X 144″ Universal Polypropylene Fill, Haz-Mat Yellow Knit Sock.
10/Box
18
Haz-Mat Yellow Polypropylene Spun Bond Pillows

Product Description
Packaging
Units/Skid
10″ X 10″ X 2″ Yellow Polypropylene Hazmat aSpun Bond Pillow.
40/Box
36
9″ X 18″ X 2″ Yellow Polypropylene Hazmat Spun Bond Pillow.
20/Box
36
18″ X 18″ X 2″ Yellow Polypropylene Hazmat Spun Bond Pillow.
10/Box
18