24 Inch Oil Containment Boom
Unprotected Port Standard 24 Inch Oil Containment Boom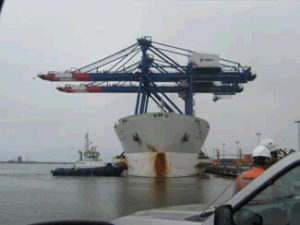 Unprotected Port Standard 24 Inch Oil Containment Boom is highly recommended by Port Authorities as the appropriate size for Unprotected Ports due to its bigger float which offers a higher free-board that will prevent splash over due to windy conditions and choppy water. The top tension cable provides great tensile strength which is required in most ports due to strong currents, tide changes, windy conditions and choppy water.
Compliant with OPA 90, US Coast Guard – OSRO and ASTM F1523 Guidelines"
Brief Description – 8" Freeboard & 16" Draft, 22 oz. PVC fabric, top tension cable, ballast chain, and ASTM connectors.
Oil Containment Booms are used in water as a first response to an oil spill or by Spill Response Contractors to divert, control and contain an oil spill. Once the spill has been contained the contractor will then proceed to remove the oil by skimming or by using PetroGuard solidifying absorbent.
Call Now 860-350-2200 for a quote or for a specification sheet