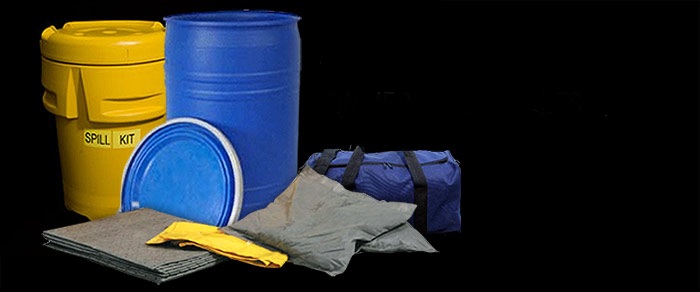 Spill kits are a must for fast and effective clean-up of water spills, oil spills and chemical spills.
They allow for immediate response to emergency spills or workplace mishaps by providing the essentials to make spill cleanup easy. Our kits are available with industry standard absorbents, or you can upgrade to our specialty kits featuring PetroGuard and PetroGuard D, our proprietary solidifying absorbents.
Our kits are available from 5-gallon to 95-gallon, as well as truck and vessel kits. Custom kits are also available.
Spill control is top of the list when referring to safety.  It is imperative for everyone to know what to do in the event of an industrial accident. Though spills are not common, when they do happen they need to be cleaned correctly and efficiently.
Every plant has procedures in place to prevent spills. But let's face it, spills happen.
That's why these kits are so important. Our kits are loaded with just the right materials all manufactured in the USA. They can easily be positioned around the facility where a spill is most likely to happen.
We are proud to provide U.S. manufactured quality, innovative and environmentally friendly hazmat and oil only absorbent products.
To reduce your costs and meet regulatory compliance, contact us for more information.
Please select the links below for more information: