Static Resistant Oil Absorbent Pads And Rolls
Our static resistant oil absorbent pads and rolls are constructed from fibers that have been combined with a special additive. They are best used where static electricity becomes a hazard or in confined spaces where flammable vapors may be present. These pads will absorb petroleum based liquids and are perfect for catching drips or spills. Because of their special construction and bright white color they are resilient, absorbent and liquids are easy to see.
Let us help you with our high quality static resistant pads and rolls at the best prices available.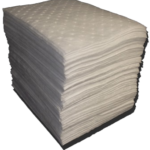 | | | PRODUCT DESCRIPTION | ABSORBENCY | PACKAGING/SKID | Price/bale |
| --- | --- | --- | --- | --- | --- |
| | | 15″ X 18″ Anti-Static Heavy Weight Oil Only Dimpled Pads. | 22 gallons | 100/BALE/30 | $36.27 |
| | | 36″ X 144′ Anti-Static Heavy Weight Oil Only Dimpled, Roll. | 41 gallons | 1/BALE/18 | $72.72 |
| | | 15″ X 18″ Anti-Static Medium Weight Oil Only Dimpled Pads. | 15 gallons | 100/BALE/40 | Call |
| | | 36″ X 144′ Anti-Static Medium Weight Oil Only Dimpled, Roll. | 34 gallons | 1/BALE/18 | Call |
| | | 15″ X 18″ Anti-Static Light Weight Oil Only Pad. | 10 gallons | 100/BALE/50 | Call |
| | | 15″ X 18″ Anti-Static Light Weight Oil Only Pad. | 21 gallons | 200/BALE/30 | Call |
| | | 36″ X 144′ Anti-Static Light Weight Oil Only Roll. | 24 gallons | 1/BALE/18 | Call |