PETROGUARD HAZMAT PILLOWS FOR CHEMICAL AND OIL SPILLS
PetroGuard hazmat pillows are quick!
PetroGuard hazmat pillows will keep first responders, workers, and your facility safer by immediately absorbing and solidifying hazardous chemicals and oil through advanced molecular capture.
PetroGuard pillows give greater absorption per square inch than cylindrical booms and are filled with our unique, proprietary solidifying absorbent.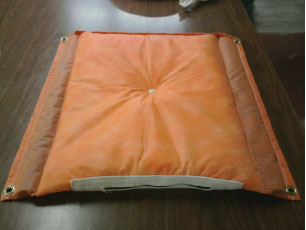 One PetroGuard hazmat pillow has the equivalent surface areas per linear food of (8) 5' conventional socks or booms.
They significantly reduce labor hours because they are so long-lasting compared to polypropylene booms and pillows.
Handing of the pillows is safer because oils or chemicals are absorbed and encapsulated and will not leach or re-release, even under pressure.
If needed they can easily be clipped together to form a continuous blanket to cover a larger area.  They can also be effectively used to absorb oil from the surface of the water.
Where Used:
Anywhere where reactive or other hazardous chemicals and oils are used around plant production and storage areas.
During maintenance procedures.
Around shop and work areas.
Storage facilities.
On first responder trucks for quick response.
Anywhere conventional socks and pillows are used.
Military installations.
Anywhere where loose particulate is not practical.
How Used:
Absorb and solidify oil or chemicals including reactive chemicals such as titanium tetrachloride or chlorosilane.
Absorb and solidify other hazardous chemicals such as butadiene, chlorobenzene and others.
Please contact us for guidance on compatible chemicals.
Part
Part #
UNIT
Size
PetroGuard Solidifying Absorbent
PGP24
@
24" X 24"
PetroGuard Solidifying Absorbent
PGP36
@
36" X 36"