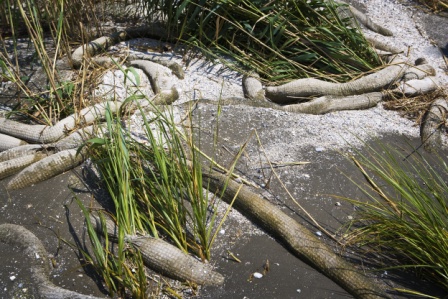 Quality absorbent boom at quantity prices
Quality over quantity or quantity over quality, which is the better deal when buying absorbent boom?
We had an experience the other day that exemplifies how easily we can be seduced by quantity over quality.
We were responding to a customer inquiry for absorbent boom.
As we analyzed the request of the customer, were able to bring to their attention that the absorbent boom they previously purchased was filled quite loosely.  We pointed out to them that their previous supplier was able to cram 287 bales of absorbent boom into a container versus our 200 bales.
How was that possible?  How can the same sized product fit 87 more pieces into a container than another product?
It had to have been the grade of the product.  The boom was constructed of a looser AND LIGHTER fill than ours.
It was really that simple.  However, helping a buyer see that a lower grade product has fewer features AND IS LESS COST EFFECTIVE than a higher grade product isn't always easy.
When it comes to pricing and selling, we know that what goes on in a customer's head can impact how they perceive quantity over quality.
If the customer only sees the number, they will never be open to seeing the story behind the number.  On the other hand, if the customer can see the big picture, they will see that behind that number is often times poor workmanship, as in the example of loosely filled boom.
Quality over quantity is an age old lesson that too many of us choose to ignore.  Although sacrificing the quality for the quantity may get a customer a few short-term profits, favoring quality over quantity will keep their business sustainable in the long run.
When it comes to selling any kind of product or service, you have to be able to feel like you are giving the customer a good deal.  The challenge is to balance quality products with quantity prices and assisting your customer to see the big picture.
So what is your opinion?  Since research shows customers prefer quality over quantity, do you think it is natural to think that quantity is the better deal?
Since 1992 Guardian has helped customers enhance their overall safety and productivity by providing practical and time-saving spill response and bulk solidification products.
Contact us today at (860) 350-2200. Let our innovative solutions keep you safer and save you money.
[contact-form][contact-field label='Name' type='name' required='1'/][contact-field label='Email' type='email' required='1'/][contact-field label='Website' type='url'/][contact-field label='Comment' type='textarea' required='1'/][/contact-form]