Are you losing sleep over oil sheens?
How important is a good pillow?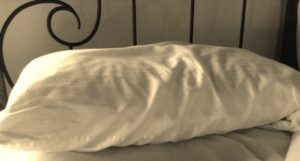 We have all heard about pillow talk right? In this instance we are talking about pillows for rainbows and oil sheens.
When it comes to the right pillow to remove floating oil and sheens, having the perfect pillow is important to the overall well being of your company.
Did you know that the National Response Center maintains a data base of all reports of hazardous substance releases and oil spills made? That information is then forwarded on to the EPA.
A neighbor who notices a sheen can do a simple internet search and find a site like this: http://www.ehso.com/oilspills.php. From there a report can be made sometimes even before a company knows there is a problem.
When it comes to rainbows and oil sheens, moving quickly is important to the overall financial well-being of a company and having the wrong pillows in stock can significantly affect the end result.
When the pressure is on, you can easily shorten your response and clean-up time with SheenGuard Sheen Removal Pillows and Blankets.
Our absorbent pillows are filled with our proprietary solidifying absorbent, PetroGuard D. Our blankets are constructed to the highest quality standards. Under most conditions, a SheenGuard blanket or pillow can last months (not always good for us but very good for our customers).  And our products have additional flotation incorporated into the design to insure that the blanket will not sink during normal use.
If the problem of rainbows and oil sheens is giving you a headache, having the wrong pillow can make it worse. Like Goldilocks, some pillows are too hard, some are too soft and some are just right! For just the right sheen removal pillow, contact us. As a matter of fact, when you place an order before August 1st, 2014 we'll give you a 5% discount.