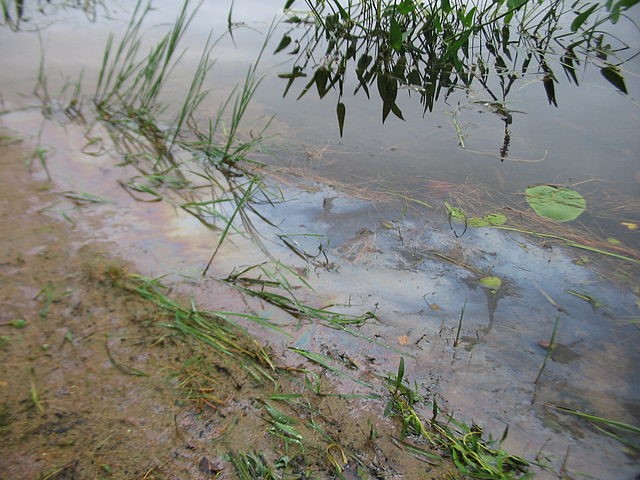 Quickly Clean Up Oil Sheen on Water
Being prepared to clean up an oil sheen on water not only requires a rapid response plan, but it requires using the best products available.
There are a few oil sheen removal pillows on the market, but they are not all created equal.  There's a big difference between conventional oil sheen absorption products and specialty products.
Using an oil sheen removal pillow that is geared toward your exact problem will up your game when it comes to removing oil sheen without leaving residual oil behind.
If you are looking for a product that makes it easy to stay in compliance with the  "sheen rule", is convenient to use, doesn't leach upon removal and provides an overall cost-savings, and provides an overall cost-savings, SheenGuard is the answer.
Our clients love SheenGuard pillows, it's because they are:
Non-leaching: will not leach liquids once absorbed, even during handling. Helps to meet government regulations.
Economical: reduces man hours by replacing conventional methods with a long-lasting sheen removal device.
Superior in construction: custom fitted with additional flotation devices that insure stability in all conditions.
Easy to place and reduce maintenance.
SheenGuard pillows are the perfect solution for oil sheen removal on:
Industrial holding ponds
Storm drains
Power station water discharge
Fuel and oil ship loading areas
Military applications
And many more……
If you think it is time to give yourself a rest from dealing with products that leave an oil sheen behind, we would like to help.
Before it's time to change out your current system, just click here and let's talk about what you are using now contrasted against SheenGuard.
It's a conversation that just might show you how using just the right sheen removal product is the real indicator of performance.
At Guardian Environmental Technologies we assist industries, government agencies and prime contractors who handle hazardous chemicals and oil and gas with spill control and solidification solutions.
Helping our customers choose the right product is our specialty.  Give us a call and see why our customers trust us to provide them with efficient and cost effective spill control and solidification products, 860 350-2200.