PetroGuard Chemical Spill Absorbent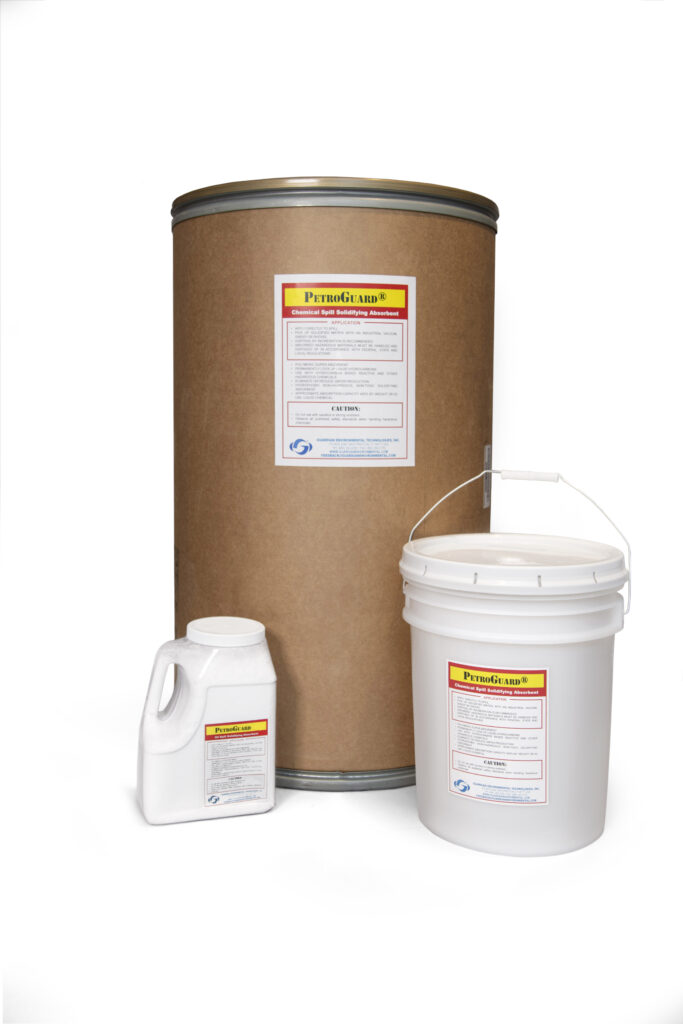 PetroGuard® chemical spill absorbent is quick!
PetroGuard will keep first responders, workers, facilities and local communities safer by instantly absorbing and solidifying hazardous chemicals and oil through advanced molecular capture.
PetroGuard is a unique and proprietary solidifying chemical and oil spill absorbent. With PetroGuard, most common water reactive chemicals, hazardous hydrocarbons and silicone-based chemicals are quickly and effectively:
absorbed
encapsulated (true permanent encapsulation | will not release under pressure) *
solidified
immobilized
stabilized
Minimize your safety procedures with PetroGuard chemical spill absorbent.  Because of its ability to absorb liquid chemicals quickly and minimize hydrolyzing which reducing the risk of fire, explosion and inhalation of toxic fumes.
PetroGuard is known for its quality, speed and efficiency, having an absorption capacity of over 400% making spill clean-up faster, safer and more cost effective.
Overall PetroGuard efficiently reduces operational costs because:
The absorbed reactive chemical becomes impervious to water.
Flammable or toxic vapor production is reduced or eliminated.
Clean-up is safer and requires less manpower.
Exposure time to the hazardous chemical is significantly reduced.
It has a low volumetric increase of less than 15%, keeping handling and disposal costs down. Other solidification polymers will swell to up to 27 times their volume, increasing handling and disposal volume, while requiring greatly extended time to absorb effectively by as much as 20 minutes.
PetroGuard chemical spill absorbent is non-leaching and non-exothermic.
PetroGuard is easily disposed of by incineration or landfill.
Example organics absorbed and immobilized by PetroGuard chemical spill absorbent include:
Chlorosilanes
Trichlorosilane
Titanium tetrachloride
Butyltrichlorosilane
Polynuclear aromatic hydrocarbons
Chlorinated hydrocarbons
Ethyl acetate
Trichloroethylene
Styrene
Naphtha
Physical Characteristics
Matrix Structure
Organic Polymer
Physical Form
White granular powder or crumb
Particle Size
20-60 mesh
Apparent Density
14.5lbs/CF
Ash Content
0.01
Flash Point
Not applicable
Suggested Methods of Application
The quickest and easiest way to apply PetroGuard is by manually applying it to the surface of the liquid chemical. This is best done using a scoop or shovel. For larger standing spills we recommend the use of industrial blowers.  Contact us for more information on our custom-made motorized blowers.
Send us a description of your problem chemical and we can help you determine if PetroGuard chemical spill absorbent is an appropriate solidifying absorbent for your application.
PetroGuard Chemical Spill Absorbent Packaging Options
| ITEM # | ITEM DESCRIPTION | | | | |
| --- | --- | --- | --- | --- | --- |
| PG55 | PetroGuard: 55-gallon drum (100 lbs) | | | | |
| PG5P | PetroGuard: 5-gallon pail (10 lbs) | | | | |
| PG40 | PetroGuard: 40 cubic foot bulk box/bag (600 lbs) | | | | |
| PG Shaker Jar | PetroGuard: Shaker Jar 4 to a box (2.75 per jar) | | | | |