PetroGuard Chemical Spill Absorbent
PetroGuard® chemical spill absorbent is quick!
Known for its speed, quality, efficiency, and absorption capacity of over 4:1, PetroGuard makes chemical spill clean up of water reactive chemicals faster, safer and more cost effective.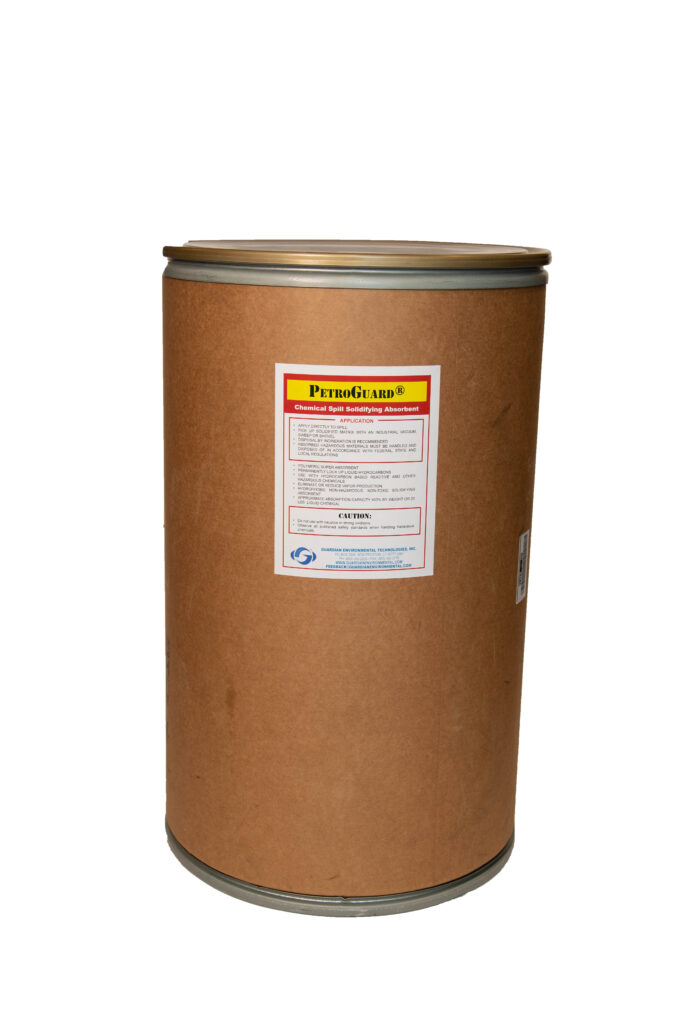 With PetroGuard common water reactive chemicals, hazardous hydrocarbons and silicone-based chemicals are quickly and efficiently:
Absorbed
Encapsulated (will not release under pressure)
Solidified
Immobilized
Stabilized
Because PetroGuard acts so quickly, hydrolyzing is minimized/eliminated, reducing the risk of fire, explosion, and inhalation of toxic fumes.
Overall PetroGuard efficiently reduces operational costs because:
It rapidly absorbs. Other polymers take up to 20 minutes to effectively absorb.
Flammable or toxic vapor production is reduced or eliminated
The absorbed chemical becomes impervious to water
Clean-up is safer and requires less manpower
Exposure time to hazardous chemical is significantly reduced
It has a low volumetric increase of <=15% and rapidly absorbs. Other polymers swell <=27%.
It is non-leaching and non-exothermic
It is easily disposed of by incineration or landfill
Example of organics absorbed and immobilized by PetroGuard chemical spill absorbent include:
Chlorosilanes
Triclorosilane
Titanium tetrachloride
Butyltrichlorosilane
Polynuclear aromatic hydrocarbons
Ethyl acetate
Trichloroethylene
Styrene
Naphtha
Suggested Methods of Application
Using a scoop or shovel, manually apply PetroGuard to the surface of the liquid chemical.  Use an industrial blower for larger standing spills.
Click here for a list of water reactive chemicals:
For pricing please call 860 350-2200 or contact us here.
PetroGuard Packaging Options
| ITEM # | ITEM DESCRIPTION | | | | |
| --- | --- | --- | --- | --- | --- |
| PG55 | PetroGuard: 55-gallon drum (100 lbs) | | | | |
| PG5P | PetroGuard: 5-gallon pail (10 lbs) | | | | |
| PG40 | PetroGuard: 40 cubic foot bulk box/bag (600 lbs) | | | | |
| | | | | | |
Watch PetroGuard tackle TiCl4
Watch PetroGuard tackle Chlorosilane