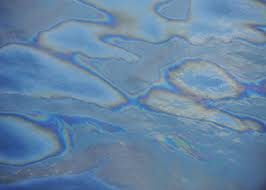 Dealing with Oil Sheen on Water
The USEPA has very specific requirements on reporting oil sheen on water otherwise known as the "Sheen Rule".
Rule Overview: "The Discharge of Oil regulation is more commonly known as the "sheen rule." Under the Clean Water Act, this rule provides the framework for determining whether an oil spill should be reported to the federal government. In particular, the regulation requires the person in charge of a facility or vessel responsible for discharging oil that may be "harmful to the public health or welfare" to report the spill to the federal government. The regulation establishes the criteria for determining whether an oil spill may be harmful to public health or welfare, thereby triggering the reporting requirements, as follows:
Discharges that cause a sheen or discoloration on the surface of a body of water;
Discharges that violate applicable water quality standards; and
Discharges that cause a sludge or emulsion to be deposited beneath the surface of the water or on adjoining shorelines." *
In the case of most hydrocarbons, spilled oil spreads and eventually becomes a very thin film known as a "sheen". The thickness of this film is usually less than one micron (1µm). This film is transparent and has a silver to silver-grey appearance. The sheen actually contains very little oil. However, a very small amount can spread over a square mile if left unattended. As oil spreads on water, the oil slick changes in color from black or brown to a rainbow of colors and finally to the silver or silver-grey of sheen.
Removing this annoying and troublesome sheen can generate big problems for businesses that use large amounts of water for cooling or other uses in manufacturing or production. Conventional absorbent pads are mostly ineffective. However, there is a solution. SheenGuard blankets and pillows are made with the premier oil solidification absorbent available today. You can rely on SheenGuard to solve your oil sheen and rainbow problems. Please contact us for more information.
Since 1992 Guardian Environmental Technologies, Inc. has been helping customers enhance their overall productivity by providing practical and time-saving spill response and bulk solidification products.  Contact us today so we can help you calculate your savings.  (860) 350-2200.
*Section 311(j)(1)(C) of the Clean Water Act as amended by the Oil Pollution Act of 1990